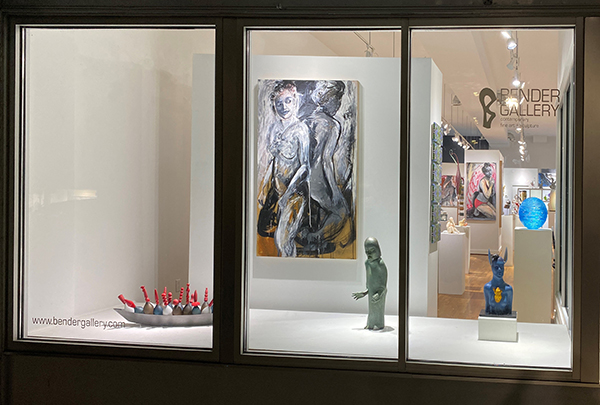 SHE – Solo Exhibition
Bender Gallery | Asheville, NC
October 2, 2020 – November 2, 2020
New Work by Kim Goldfarb.
"T&T" Talk and Tour Video – by Duncan McClellan Gallery
Sep 3, 2020 | with Peter Wright & Kim Goldfarb
Join us for a discussion with painter Kim Goldfarb and artist Peter Wright as they tour us through their careers in the art world and explain the inspirations behind their work.
Featured Artist: Kim Goldfarb
As a sculptor, glass designer and painter, the thread that weaves my work together is the thrill of discovery and love of the human and animal form. I am consistently driven to express my love of this beautiful planet and its inhabitants. I feel that we are all connected. In my work I often portray human animal hybrids. In some ways this is my expression of how connected we all are. A lot of the work that I do is stream of consciousness. I feel that somehow I know these beings that I paint and sculpt on some deep emotional level. They have a need for expression and I am happy to be the vehicle through which they come into being.